Mark as New

Bookmark

Subscribe

Mute
Here on the Meraki Community, we talk a lot about "kudos". You'll see Top Kudoed Authors and Top Kudoed Posts on the home page and each board, and the signatures of numerous community members mention something along the lines of "Found this helpful? Kudo me!" We also recognize the four top-kudoed community members each month through our Members of the Month announcements.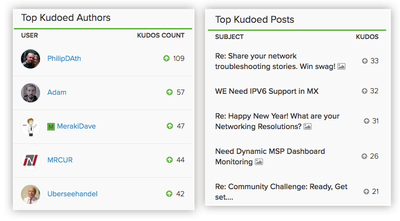 Top Kudoed Authors and Top Kudoed Posts
But what, exactly, are kudos?
According to Merriam-Webster, kudos are:
praise given for achievement
That's an accurate description for kudos on the community as well. Here, if you find a post especially helpful or interesting, you can show your appreciation by giving kudos. You do this by clicking the

below a post.
Feel free to try out giving kudos by giving this post some kudos below! (You must be signed in to do so. Learn more about registering for the community).
Cheers!
Caroline S | Community Manager, Cisco Meraki
New to the community? Get started here

Get notified when there are additional replies to this discussion.