Meraki Alumni (Retired)
Mark as New

Mark as Read

Bookmark

It's the end of week 3 and time for another progress report on our month-long Points Contest! So many of you have qualified by this point that we needed to split the roundup into two parts. Way to go! Tier 1 is listed below and Tiers 2 and 3 are announced here.
This week, we're excited to reveal yet another prize for all contest entrants — a shiny NEW BADGE: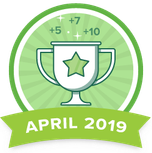 To recap, if you are tagged in Tier 1 below or in Tiers 2 and 3 in Part 2 of this roundup, you've achieved: an entry into a drawing to win your tier's prize, an entry to win the Grand Prize of an MV-12, AND at the end of the contest, you'll be awarded the Points Contest badge in recognition of your stellar contributions throughout this month.
Members who reached Tier 1 by achieving 30 points:
@JimL
@route_map
@PeterJames
@arekdreyer
@Bleeps77
@vassallon
@TBisel
@GabrielVianna
@kami
@xandurr
@Kevin1
@ASheppard970
@AStoddard
@DHAnderson
@deesloop
@PGP
@nuo
@cirizan
@Joseph
@pcteechur
@Richard_W
@nst1
@msosa
@KaylaEik
@HodyCrouch
@nvrdone
@VincentPanico
@BCNetworkTeam
@DonAnnett
@GreenRhino
@pgrovesnz
@CraigCummings
@francktls
@AdamSedar
@AFranco
@JuanPabloMx
@mdertinger
@Pugmiester
@VictorWise
@harrys
@Heerscher
@MJW
@ReformIT
@dgomezny
@GavinW
@KMNEP
@Autumn
@David62301
@Mr_IT_Guy
@rcarmack
@SFog
@Ward
@bk10233
@jvielma
@Roska
@suprimir
@Cleytonsc
@Welles
@Merakibgp
@NJacobe
@Francis
@stevenwhiting
@Adam
@Arleen
@fxroche3
@Set753
@Slider
@superfly
@svetlinski
@nikiwaibel
@Rafaetero
@Ritchie
@Andreas_Becher
@Ben
@ElCid1989
@Guillaume6hat
@Karla
@Nove_Lupo
@Phil_Cooke
@Aaron_Wilson
@SKatMTA
@Todd_Z
@BradMac
@ham737
@PaulG
@AbidJr
@dalmiroy2k
@Dammyfaruq
@jchang
@Anonymous
@NordOps
@RaphaelL
@Tylerjuz
Congrats to everyone who has reached Tier 1 and remember: now there are only 11 days left to earn points!
9 Comments
You must be a registered user to add a comment. If you've already registered, sign in. Otherwise, register and sign in.