Meraki Alumni (Retired)
Mark as New

Mark as Read

Bookmark

We've completed week 1 of our month-long Points Contest and we were very pleased to see how excited everyone is to participate! If you're new to the community and you're looking for a good place to start, check out our "Introduce Yourself" board. Here, you can get your feet wet by chatting with community members new and old, and earn valuable contest points while you're there!
We're also pleased to announce that EVERYONE who achieves any tier during this contest will be granted the coveted Points Contest badge: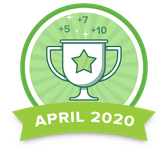 Now — on to the scores! 76 of you have qualified for entry to win one of our swanky swag prizes! If you are tagged in any of the tiers below, you've achieved entry into both a drawing to win your tier's prize AND a drawing to win the Grand Prize of an MV32.
Members who reached Tier 1 by achieving 30 points:
@gfrick
@Mr_IT_Guy
@MackerTekGary
@WWWolf
@MagnusK
@Mloraditch
@Julian
@jwaasusps
@CCIE-Adam
@JimmyPhelan
@GlenW70
@rafaelertel
@Adam-Baxter
@jallegri
@DouglasOpp
@SeanW
@Thygesen
@SongCloud
@rthiaga
@RJordan-CCS
@xombeep
@RufTech
@AnythingHosted
@JoePieterse
@TyMunn
@Felippe
@Kasper
@X0X0X0
@Priesty
@Krishnashahu456
@mbonacina
@Alberto_Araujo_
@ww
@CGIbs
@BlakeRichardson
@Agus
@mackem
@CharlieCrackle
@GIdenJoe
@route_map
@jbright
@Guillermo_G_D
@Victor_Poulsen
@frenz
@vassallon
@QBM
@RTP-Ken
@chrispeeduck
@YKWong
@Saimum_Rahman
@YellowKLR
@andrewperry
Members who reached Tier 2 by achieving 100 points:
@cwf
@kYutobi
@Simple
@CptnCrnch
@BAllen
@rwiesmann
@Greenberet
@Frankthetank
@Johnfnadez
@Jwiley78
@ShaquilleDaniel
@Nash
@Alex67
@KRobert
@JohnGeorge
@colinster
@Uberseehandel
Members who reached Tier 3 by achieving 200 points:
@PhilipDAth
@DarrenOC
@NolanHerring
@BrechtSchamp
@cmr
@TCAM_ERROR
@jdsilva
Congrats to everyone who has qualified so far. Remember, there are still 25 days left to earn points and increase your chances of winning a prize!
30 Comments
You must be a registered user to add a comment. If you've already registered, sign in. Otherwise, register and sign in.