Community Manager
Mark as New

Mark as Read

Bookmark

It's time for our April Member spotlight!
For this Member Spotlight, we chose to recognize @cwf . Since joining last October, he has written 33 posts, received 81 kudos, and authored his first solution. We've really appreciated his contributions across many of our boards, as well as his many warm welcomes in our new Introduce Yourself board 🙂
Congratulations!

🏅

👏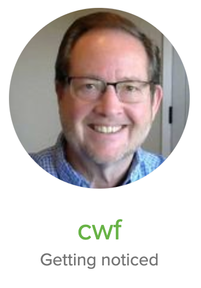 Tell us a little bit about your background.
I started my career in technology as a field engineer with Data General in Alaska covering the state. I earned my private pilot's certificate while in Alaska to make traveling more enjoyable. I eventually moved to the lower 48 and went to work for Northrop Grumman in the Bay Area as national tech support. Then Sun Microsystems SE for 10 years before becoming the network manager for a senior living company called ABHOW (now called HumanGood the largest non-profit senior living company in the western states). While at ABHOW/HG for 10 years, I converted the network to Meraki "Full Stack" at 86 all communities.
Also, did one of the first full MPLS to Auto-vpn conversions working with Daghan Atlas, the MX product manager and we made this case study. https://meraki.cisco.com/customers/healthcare/abhow
Six months ago, I returned to technical sales as the SE Director at Funnelcloud Enterprise where I am concentrating on growing our Meraki business.
Since joining, you've been such a friendly presence here by regularly welcoming newcomers and answering technical questions! What keeps you coming back?

I'm a die-hard Meraki fan and I enjoy sharing my experience with others if I can help. Now that I'm not managing 100 MX's, 600 MS's, 2000 MR's spread across 5 western states, I can keep a pulse on Meraki by hanging out with the Meraki Community.
What are you most excited about for the future of networking?

I'm mostly excited about the giant leaps in capacity and speed of wireless networks including mobile networks. This increased capacity along with advances in artificial intelligence, augmented and virtual reality, and API standardizations will change everything.
What's your advice to folks who are just getting started with Meraki?
Don't panic. Wait 3 minutes after you make a change in the Dashboard before assuming it didn't work. I know this sounds obvious, but 3 minutes can be a long time while troubleshooting.
---
Thanks, @cwf! Want to nominate one of your fellow community members for next month's spotlight? Submit your nomination here!
9 Comments
You must be a registered user to add a comment. If you've already registered, sign in. Otherwise, register and sign in.