Community Manager
Mark as New

Mark as Read

Bookmark
We'll be giving shout-outs each month for exceptional contributions to the Meraki Community. Here's the first batch.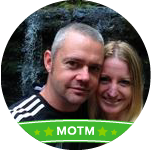 @PhilipDAth, hailing from IFM, a Cisco partner in New Zealand, is a clear standout for September. If you've spent any time at all around here, you've seen his contributions! Since he joined on August 26, he has posted a remarkable 236 posts—that's over twice as many as anyone else during that timeframe. In September, he received 61 kudos and authored 22 solutions. Philip has also spread the love by giving dozens of kudos himself, and by answering questions both basic and complex. Philip is the first community member to reach the 8th level in our rank system, "A Model Citizen," and we think that rank describes him nicely!
As a small token of our appreciation, some fun Meraki swag is now flying across the Pacific towards Auckland.
Read below to learn more about Philip and his thoughts on the community.
Congrats also to @Mr_IT_Guy, @MilesMeraki, and @BHC_RESORTS, who received 29, 23, and 22 kudos in September (and some Meraki swag, of course). Mr_IT_Guy and BHC_RESORTS were part of our community beta program in August, and we commend them for their continued involvement here. WANKiller, also hailing from New Zealand, broke into the top ranks on September 30—just in the nick of time!
| | | |
| --- | --- | --- |
| 29 kudos | 23 kudos | 22 kudos |
Thanks to EVERYONE who has participated in the community so far. We're looking forward to month #2!
Q&A with Philip D'Ath
I was curious to learn more about our top member:
What's your favorite thing about participating in the community?
I suffer from depression. Participating in the forums gives me small goals I can achieve on a daily basis. It helps provides a sense of achievement or success.
Any particular Meraki product / feature that you're particularly fond of or couldn't live without?
Across all of the product lines I am most fond of AutoVPN and SD-WAN.
AutoVPN makes rolling out multi-site networks tremendously simpler.
SD-WAN is often pitched as a technology to allow the use of reliable bandwidth (such as MPLS with a good SLA) with cheap bandwidth (such as high speed Internet circuits with no SLA). I have certainly used it for that, but I have had a bigger demand for SD-WAN for sites where there are no reliably network access technologies available. In this scenario I can use SD-WAN to use 3G services from two different Telco's at the same time (or sometimes a satellite provider), and using SD-WAN to choose the service responding the best minute to minute. This technology is used in conjunction with AutoVPN.
What's your advice to folks looking to move to the next level in their Meraki / networking knowledge?
Cisco Meraki is in the early stages of developing an education program. I could see it taking a decade to fill out to something more comprehensive. This means it is up to individuals to gain their own knowledge. In my opinion it is only feasible to gain this knowledge "hands-on". I would recommend IT people take advantage of the webinars and the offer to get free equipment. Companies can also consider taking advantage of the "try and buy" program. There is also the "Instant Demo" available off the main home page for those wanting to work with the dashboard more.
These resources are available here: https://meraki.cisco.com/lp/free-demo

Thanks, Philip!
Official terms & conditions for the Members of the Month awards
7 Comments
You must be a registered user to add a comment. If you've already registered, sign in. Otherwise, register and sign in.