Community Manager
Mark as New

Mark as Read

Bookmark

It's time for another Community Challenge! It has been a while since we ran one of these (the last one was our Video Challenge in June), and that makes us all the more excited to launch a new one.
This time around, we're trying a scenario-based challenge. We hope you enjoy it.
The Challenge
You are an IT professional in charge of deploying Meraki wireless in a conference venue. The venue was designed for flexible layouts, with movable partitions between rooms, in order to accommodate a variety of group sizes and meeting purposes.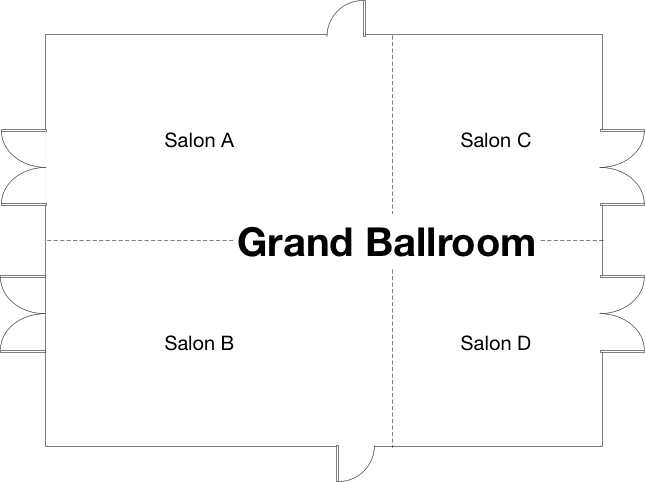 Conference venue with flexible layout
The venue's WiFi requirements are:
Fixed number of AP's per room; no additional hardware will be added to support capacity
Capacity should scale from a dozen participants to up to 600 (total across all salons)
Performance of business-critical applications should be maintained regardless of client count
Metrics should be made available for both conference center management and the specific groups running the conferences; they want to know about WiFi performance, event attendance, and engagement.
Venue dimensions:
90' x 68' (27.43m x 20.72m) overall
Salons A & B are each 56' x 34' (17.06m x 10.36m)
Salons C & D are each 34' x 34' (10.36m x 10.36m)
Ceilings are 14' (4.26m) tall
(By popular request, dimension info was added a few hours after we launched this challenge)
(Thanks to @BlakeRichardson for providing the metric dimensions :-))
Question:
Given the above scenario, what native MR features would you use and how would you configure them to best support this deployment? You can include hardware-related capabilities and RF features as well as basic network design.
We encourage you to include diagrams, screenshots, and perhaps even a bit of storytelling and humor to help your entry stand out!
How to enter
Submit your contest entry in a comment on this blog post before 11 a.m. PDT on Monday (September 24, 2018). This time around, entries won't be made public until voting starts. After you submit your entry, you'll see a message reading "Your post will appear as soon as it is approved."
UPDATE 9/28: Voting is closed. Congratulations to the winners!
UPDATE 9/24: Entries are closed; vote with your kudos on your favorite entries!
How to win
Voting begins when submissions close (at 11 a.m. PDT on Monday, September 24, 2018), and continues through the work week. Voting closes at 11 a.m. PDT on Friday, September 28, 2018. (UPDATE 9/28: Voting is closed. Congratulations to the winners!)
We will be selecting 2 winners:
The Community Favorite — chosen by you, our Community members. Cast your vote by giving kudos () to your favorite entries. The entry with the most kudos from community members who aren't Meraki employees will win!
The Meraki Favorite — the entry with the most kudos from Meraki employees will win the Meraki Favorite prize. Feel free to solicit your contacts at Meraki to vote for you.

😉
Good Luck! ☘️
The Fine Print
Limit one entry per community member.
Submission period: Monday, September 17, 2018 at 11am PDT through Monday, September 24, 2018 at 10:59am PDT
Voting period: Monday, September 24, 2018 at 11am PDT through Friday, September 28 at 11am PDT
Prize will be a selection of Meraki swag with value not exceeding USD50.00
15 Comments