Meraki Alumni (Retired)
Mark as New

Mark as Read

Bookmark
UPDATE: This contest has ended — huge thanks to everyone who shared their recycling photos and stories! Congrats to our randomly selected Meraki socks winners: @IanH, @Ensposito, @TMRoberts, and @Andrewbluepiano.
It's National Recycling Day here in the U.S. and we're thrilled to recycle our favorite way to celebrate holidays: a contest!
In a time when we're embracing the reduce, reuse, recycle maxim more than ever, it's not just about proper disposal anymore. It's about creative repurposing in delightful ways, e.g. artisan deck chairs made of reclaimed wood or coffee tables made of responsibly-sourced found objects. It's about this truly amazing wireshark made of old cables that @Nash crocheted in flourish of brilliance: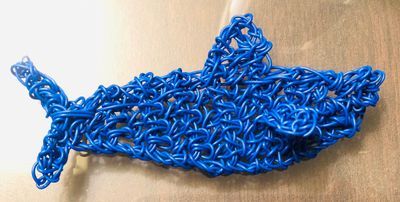 Thanks @Nash! Read her shark-tale here.
For this contest, we want to see your creative repurposing of old, busted, or just plain tired tech into brand new, re-envisioned masterpieces. That VCR that's never giving back your VHS copy of Roadhouse? Now it's a mid-century modern door stop that's elevating your apartment vibe. That iPhone 5 that you can't bring yourself to ditch? Slap on some duct tape and a live-streaming app and you've got yourself a 24/7 live feed of your cat. If you don't have photo evidence or if you have only grand plans at this stage, you can also just describe your ideal tech repurposing project.
How to Win
In a comment on this post, submit your repurposed or upcycled tech as an image or via a brief description and be entered to win swag. Submit your entry on this blog post before 11 a.m. PST on Wednesday, November 20th (11/20/2019). We'll then draw four at random to win a pair of Meraki socks! Your entries will be public and visible throughout the contest.
Terms & conditions
Limit one entry per community member.

Submission period

: Friday, November 15th, 2019 at 11am PDT through Wednesday, November 20th, 2019 at 10:59am PDT

Prize will be a selection of Meraki swag with value not exceeding USD 50.00
19 Comments
You must be a registered user to add a comment. If you've already registered, sign in. Otherwise, register and sign in.