Meraki Alumni (Retired)
Mark as New

Mark as Read

Bookmark

UPDATE: Thanks everyone for sharing your stunning new avatars! Our two randomly selected winners are: @Wazz and @JM. Congratulations!
This week, we challenge you to update your community profile picture (a.k.a. "avatar")! While we love our space-themed default avatars, they can't compare to your own images when it comes to building a diverse community. Whether you go with your LinkedIn profile picture (good for consistency) or a sassy picture of your cat (if privacy is preferred), adding your own image as your profile avatar is a great way to distinguish your contributions and personalize your interactions here in the community.
In fact, our gnomes have been investing in their own professional development by posing for some corporate headshots — you may find these will inspire your own photo ideas: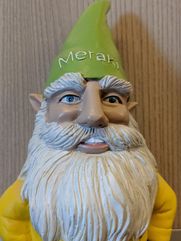 MS looking very professional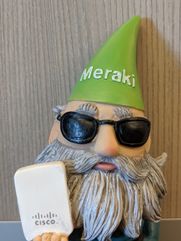 AP serving us "cool and casual"
Once you've updated your avatar pic, you can simply post a comment on this blog post stating "I have a new avatar" (accompanied by some entertaining commentary about your new avatar, if you like!). Next week, we'll randomly select two winners to receive their own MV or MS Gnome, as featured above!
How to update your profile avatar
To update your profile avatar, simply open your profile page and click the tiny pencil next to your current avatar:
Next, select your image. You can upload it from your computer, use an image you've already uploaded to the community (the "From my albums" tab), or import an image via URL (the "From another site" tab):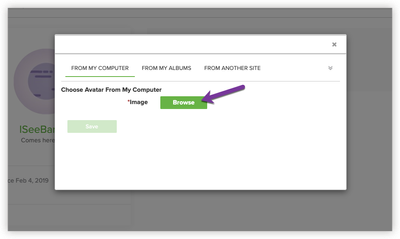 Once you have selected your new image, you'll be prompted to crop it — TWICE. You'll crop it once for your main profile avatar and once for your mini-avatar that appears next to your name on posts ("Message Avatar"):
First crop: Profile avatar
Second crop: Message avatar
That's it! You'll be redirected to your profile page, which will show this message: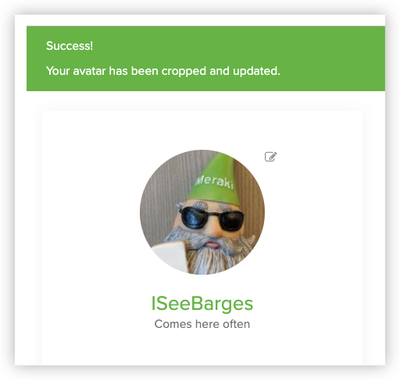 Success!
How to win
Anyone who has customized their avatar can post "I have a new avatar!" (even if it's not that new) in a comment on this blog post before 11 a.m. PDT on Monday (July 1st, 2019). (Please do just comment here on this blog post; avatar-related comments in other areas boards here on the community will be removed!)
Once submissions have ended, we will be randomly selecting 2 winners to receive those photogenic gnomes!
The Fine Print
Limit one entry per community member.

Submission period

: Monday, June 24th, 2019 at 11am PDT through Monday, July 1st, 2019 at 10:59am PDT

Prize will be a selection of Meraki swag with value not exceeding USD 50.00
245 Comments